High-quality Home Floor Tiles
in the United States
ARMOR-TUFF is one of the trusted flooring brands in the United States. Firehouses and military services trust our products for their quality and durability. Our products are made in the US and sold across the US. Our products come with numerous benefits, which makes them America's favorite flooring brand.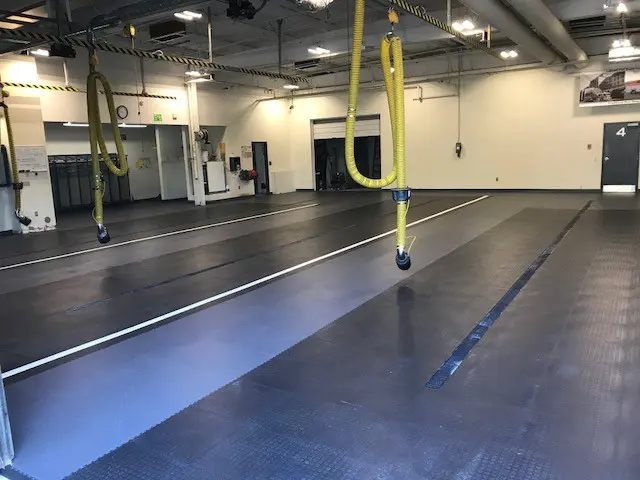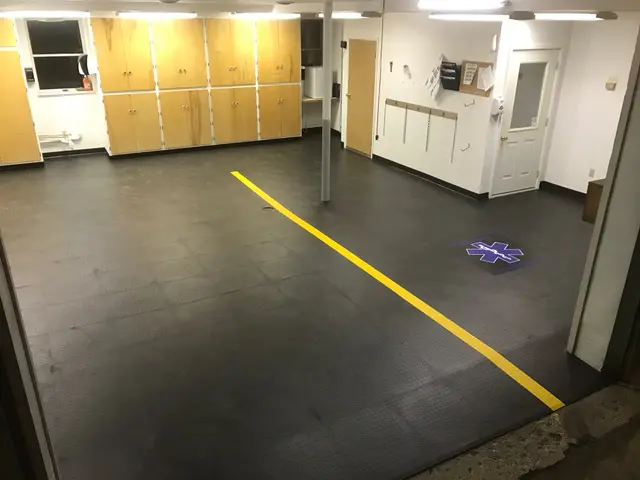 Sturdiness
with Lifetime Warranty
Apart from being tough, ARMOR-TUFF also offers a 25-year warranty. No other epoxy floor provides such a guarantee or warranty.
Now, you can have your new flooring installed in just one day with ARMOR-TUFF. Thanks to our innovative interlocking tile pattern, the floors can be installed in just a day, with minimal drops in your productivity. ARMOR-TUFF is the perfect answer for projects that cannot be put on hold due to the countless number of days required to install an epoxy floor.
Tens of thousands of square feet of ARMOR-TUFF tiles can be installed in a single day if needed with little, if any, downtime of the area. Install today – use today!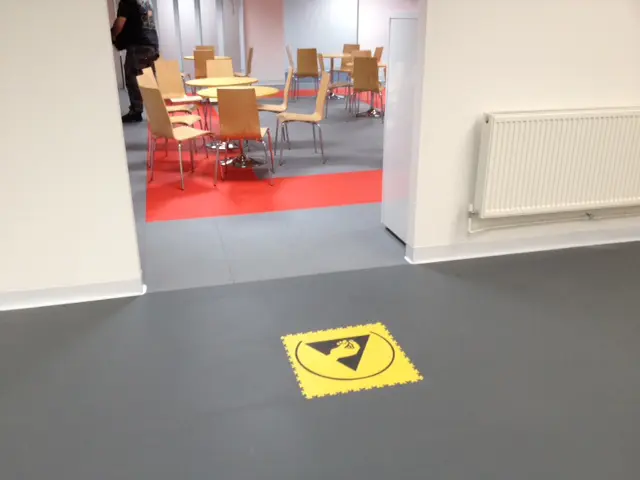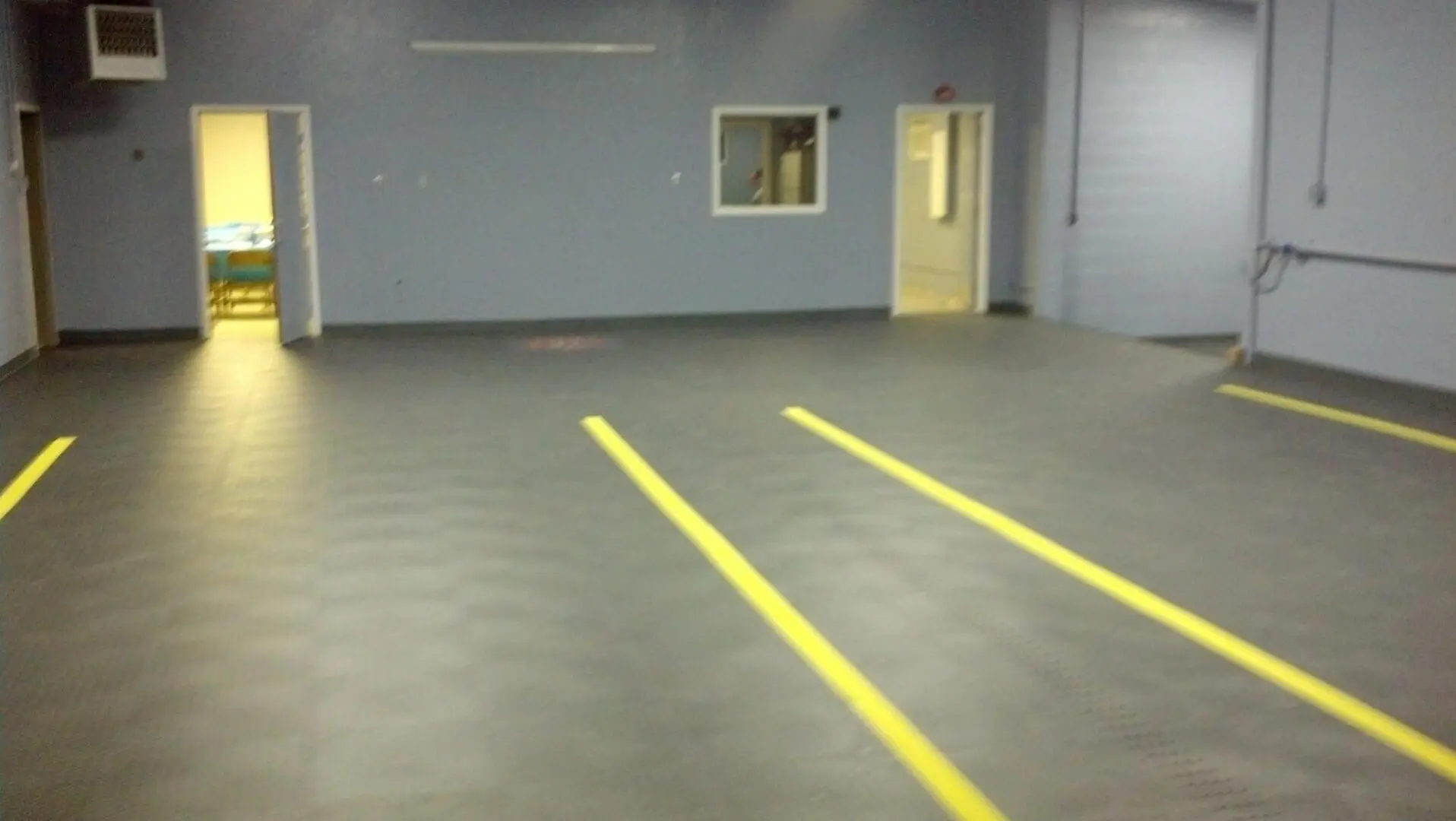 ARMOR-TUFF is easy to install by just about anyone. No special skills or tools are needed as the tiles can be put together using a rubber mallet. The trimming can be completed with standard hand or woodworking tools. The tiles can be cut quickly using an electric saw with a panel or fine-tooth blade. We do offer a special Magnum Cutter Shear, which can be used for large jobs with many cuts.
Installation Support
by Our Team
ARMOR-TUFF can arrange installation on most of the East Coast and other selected areas. We also offer supervisors who can assist you with your project and supervise your staff, if needed (fees apply).
Our ARMOR-TUFF Division specializes in servicing the Fire/EMS/Police/Correctional market and can arrange full-service supply and installation.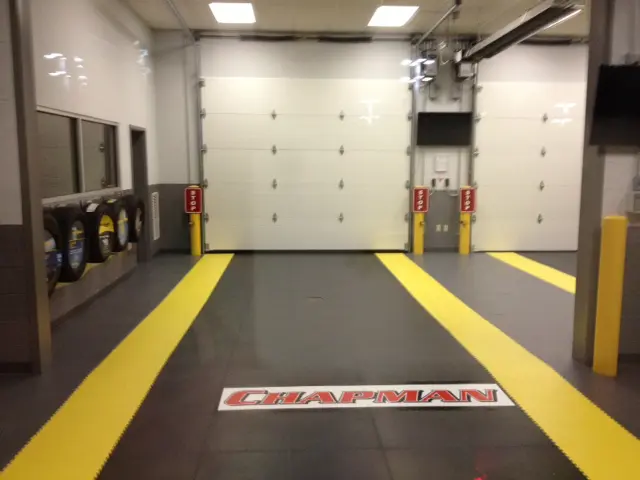 Adhesives, Topcoats
& Non-Skid Additive
ARMOR-TUFF offers a variety of add-on materials to ensure proper performance for your application or project.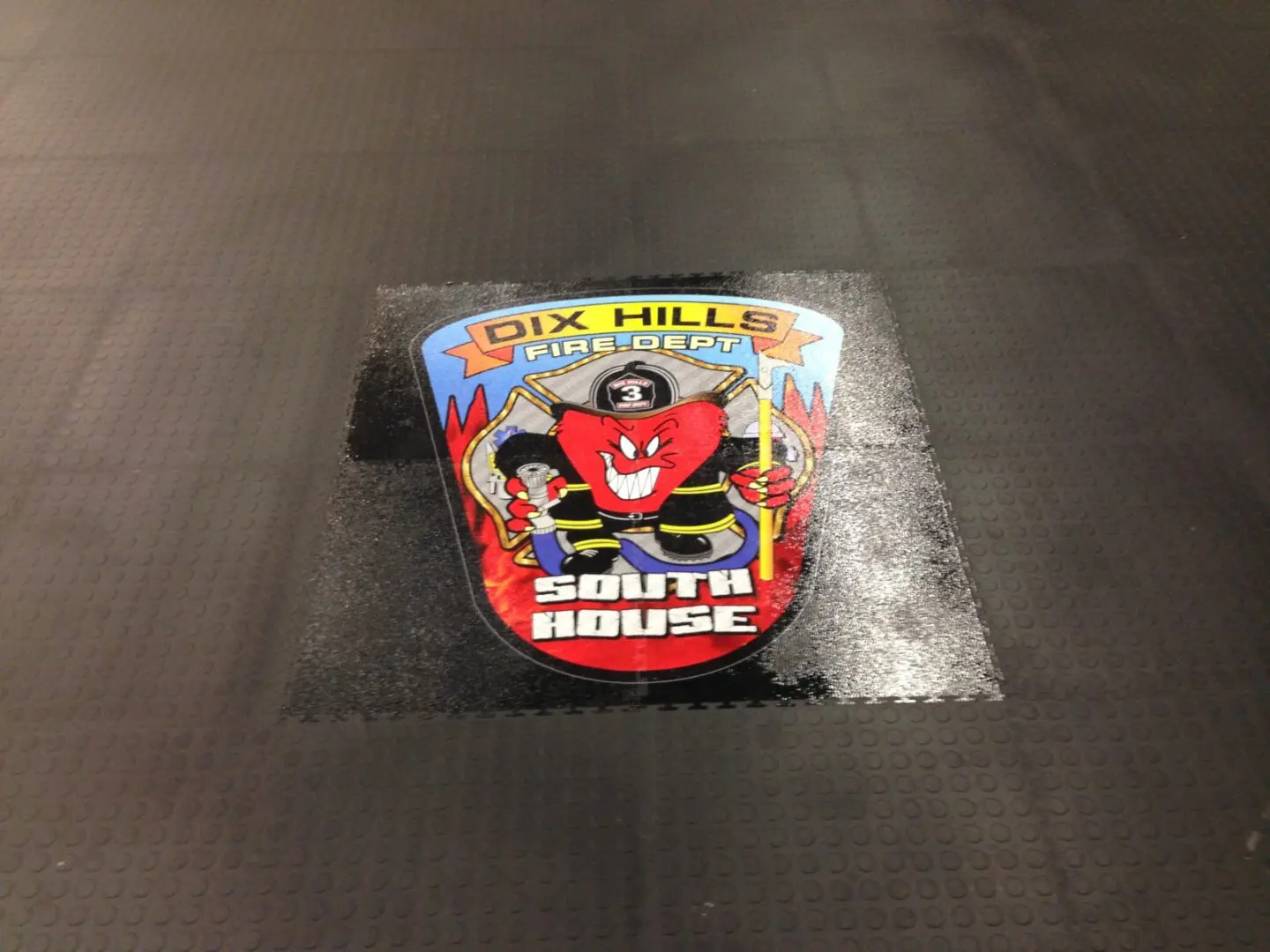 The top coating of ARMOR-TUFF is not required and serve a cosmetic as well as functional purposes.
Note: Topcoats are solvent-based products and exude an odor when applied and take 1-2 days to cure fully. It can be re-applied at any time. Non-skid additives are available for the topcoat; please contact us for information and pricing.
This high-performance adhesive can be used right out of the can and can be rolled on or applied with a notched trowel. It reacts with moisture in the air to expand and form a tight bond. It also helps prevent tile movement from sun exposure and higher loads such as pallet jacks. It is essential to be careful to avoid over-application under tile joints since 'foaming up through the joints' can occur. One gallon size of adhesive can cover about 250 square feet/gal.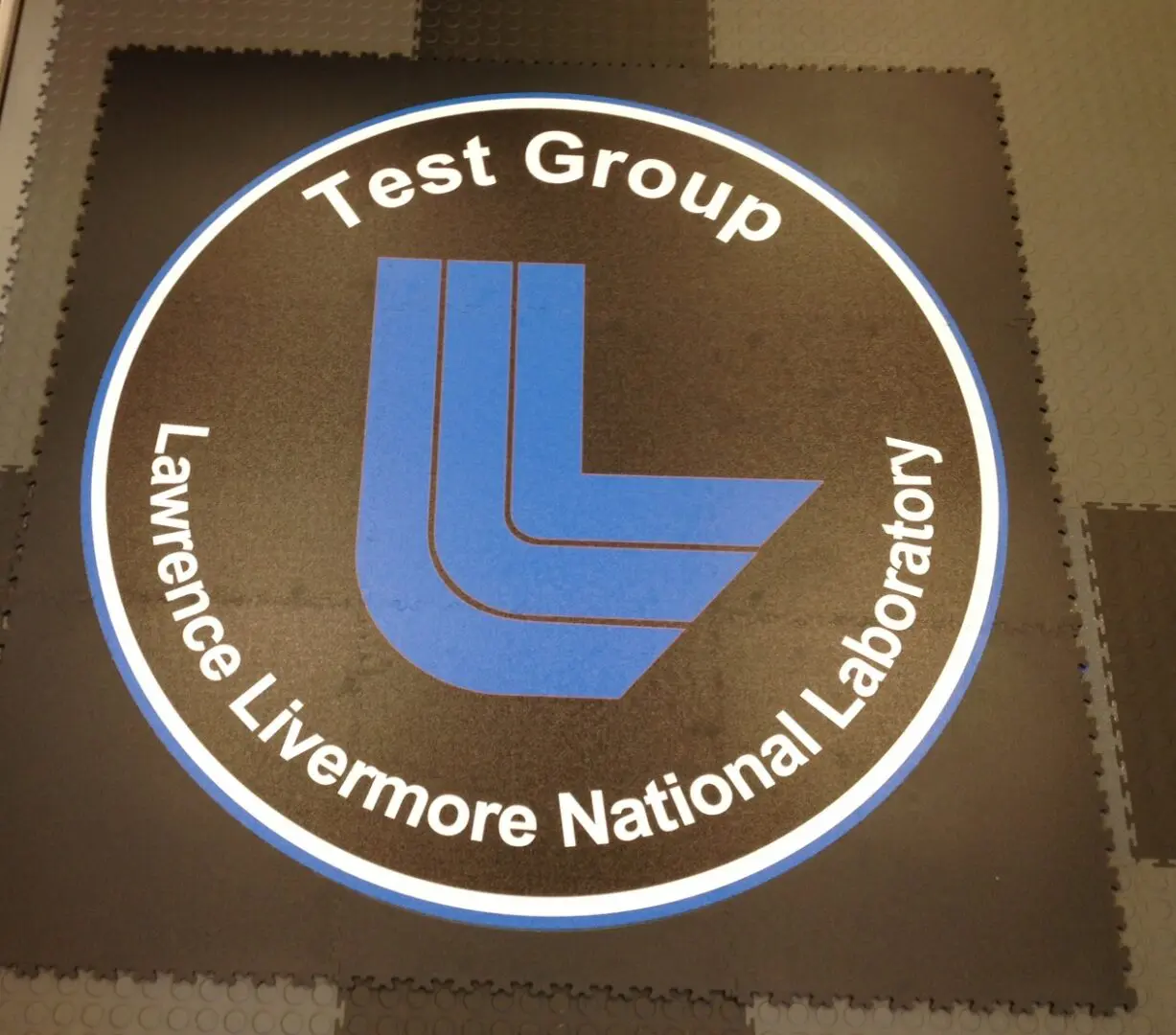 Colors & Availability
of Anti-static & Conductive Floors
Anti-static tiles are available in dark gray as the standard color. They can be customized into other colors on special orders for a minimum of 2000 square feet. ESD conductive tiles are only available in dark gray due to metal fibers. Available styles for both Anti-static and ESD conductive are 6.5mm T-Joint Coin and Textured surfaces and 7mm Dovetail Joint Textured.
Below are photos of an ESD floor with electrostatic notification tiles we can supply.
Below is an example of the grid layout for the copper straps for the Conductive Floor.
ARMOR-TUFF offers two types of edging.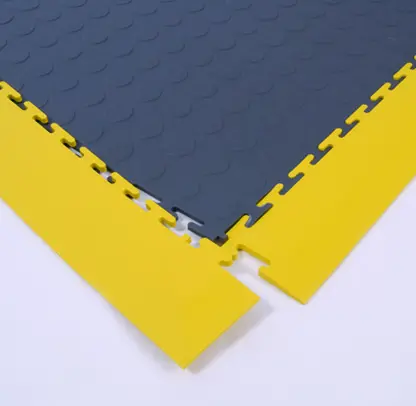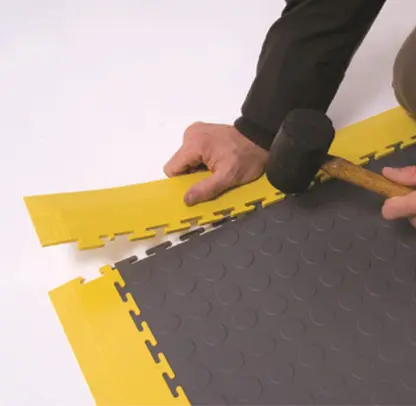 Matched
Interlocking Edging
Our Interlocking Edging has matched teeth, either T-Joint or Dovetail Joint, and the thickness of the tile you purchase. Sloping design transitions the tile height to the floor to help prevent falls and offer a clean edge.
ARMOR-TUFF offers Glue On-Ramp Edging that has a 'socket' to insert the edge of your tile into with adhesive. Custom manufactured by us in black and gray colors (custom colors available, minimums apply), the socket accepts 5.5mm-7mm sizes only; they are not available for 4.5mm thick tiles. This type of edging is sold in 10-foot lengths only and can be cut/ trimmed on the field.