Armor Tuff Tile Flooring Company
Does your fire station floor look like this?
Install Armor Tuff Tiles and make your station look like this!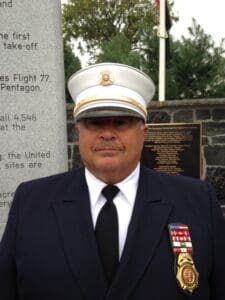 THE TRUSTED
BRAND OF FIREFIGHTERS
Since 2012, ARMOR TUFF has been the country's leading manufacturer, distributor and installer of high-performance interlocking PVC flooring tiles for all types of  Emergency Service Buildings. 
As a firefighter for many years, working in many stations, it has became apparent that there was a need for a new flooring solution for apparatus bays. 
With concrete staining and spalling and epoxy and quartz cracking and fading, there has to be a better solution other than gray epoxy paint that we would have to paint each year. All of the above are not made to be used in a working fire station. I remembered a Chief saying "we beat the new out of everything", I knew he wasn't talking just about our equipment and tools. As most, we take pride in our house. Regardless of what we did the floor just never looked clean.
We realized that epoxy had its limitations. It looked nice, but it was not practical for a fire station. Besides the 7 day prep and cure times, the limited life spans, and the difficulty to keep clean, we needed a floor that was going to last.
Looking for the right solution, I found interlocking PVC tiles. I tested, re-tested and tested again for durability and reliability. 
In October of 2012 I founded Armor Tuff Fire House Flooring. The response to fire stations wanting a solution to their floors has been overwhelming. We travel the country installing our tiles, bringing the flooring solution to countless others. 
Armor Tuff Tiles provide a color fast product that will not chip, peel, crack or stain from anything we use in the fire service, are fire 1 rated and has a non-skid and non slip characteristic, and most importantly it can withstand the everyday abuse of the fire apparatus and firefighters.  
Why Are We
America's Favorite